I would love to be able to say, "Now that all road users understand their responsibilities, let's move onto the fun stuff," but I know that one blog post isn't going to enlighten (forgive the pun) all of the drivers we encounter. Still, as we do our best to be seen, let's give folks something to look at. In fact, there are both sights and
sounds
that we can use to get drivers' attention at night.
I like killing two birds with one stone and I love getting a deal. A warm, reflective hat will do both of those things over the coming shorter, colder days.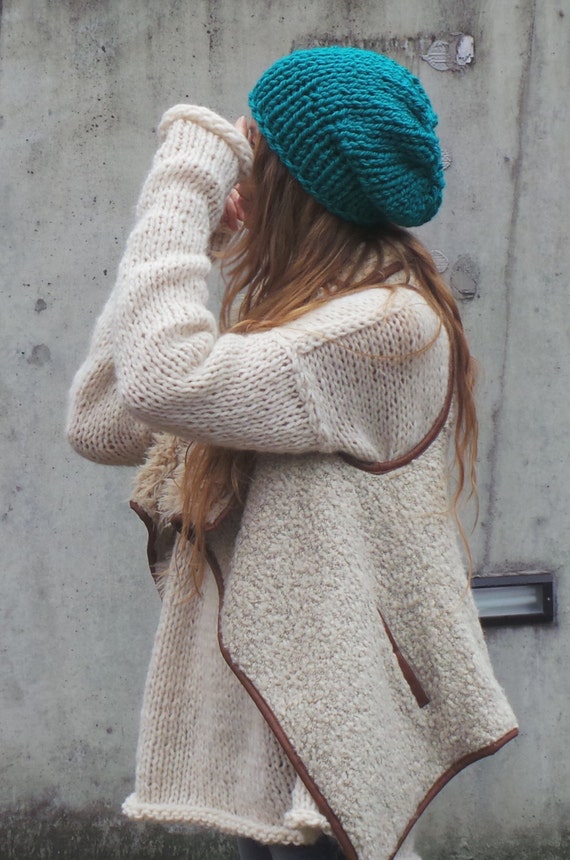 Ile AiYe
is a shop featuring "easy, casual knitwear," on Etsy. As a lover of good slouchy beanies, I had to include this item even though there's no picture of it in the dark. The maker, Cherylline, told me that the reflective material is 1 mm thick and blends in with yarn so as not to be scratchy. She also says the yarn comes in 16 colors— shades of blue, orange, yellow, green, red, pink, black, and gray.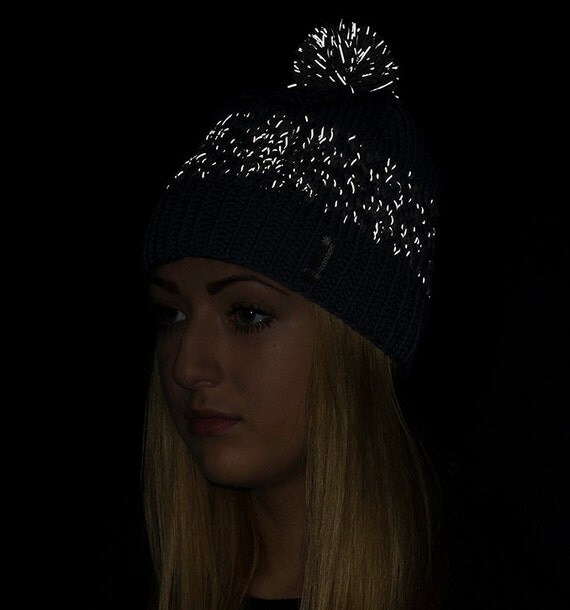 You must really check out the Etsy shop,
kanape
, to see what this hat looks like in daylight. The hats appear to be just the same as the ones you'd pick up from Old Navy or Target, but— surprise— they're full of retroreflective fibers. They're also handmade in Lithuania and constructed of wool or a wool/acrylic blend.
On The Glo
is on Kickstarter right now (fully funded) selling woolen and vegan hats, headbands, snoods, and pom poms. Of course I appreciate all of the items that can keep me warm, but I really like the pom poms. I figure you could buy two and pin them to your gloves to make your hand signals more visible. I also like the idea of using the pom poms as a bag charm on my pannier (
another Kickstarted product
).
Phoibe
is a Kickstarter project that has only 10% of its funding which is a shame because I think the designer is full of intriguing ideas. There are products pictured in her campaign that I'm really interested in buying that aren't even on offer! Two of the highlights that you
can
buy are pictured above. The clever pins feature fireflies and the headband tied in
Marc Jacob bunny ear
s fashion here could also be tied like a turban headband, perfect for hiding helmet hair.
I must include these colorful pins from
Po Campo
. You've seen them before in many reflective product round-ups, but now they're available at 25% off. Use the code "Reflect." Considering that they come in packs of two, that's a real steal.
I love the punk rock aesthetic of
House of Astbury
. Once upon a time, I knew a bike-shop-owning Anglophile who would've been the first American stockist of this cheeky line, but his shop is no more. Surely, there is someone else who feels all cyclists should have access to reflective bandanas and "Thunder Thighs" leggings. This brand is not only stylish, but focused on functionality and quality. A friendly e-mail to HoA provided me with a lot of information about what goes into their leggings— scuba material that has 4-way stretch and keeps its shape as well as attention to fit, fit for cyclists of all shapes and sizes. House of Astbury leggings come in XS-XXL with a high, snug waist that fully covers your backside while riding. They will even alter the leggings for you if your height or figure requires it.
I've merely scratched the surface of stylish, hi-viz accessories for your person; I haven't even touched on the things you could get for your bike! (Perhaps a part three is in order?) In the course of putting this post together, I've seen everything from
these simple gloves that are 40% with promo code "wow"
to
these boldly graphic ankle straps
to
this DIY video on how to make relective wristbands
. However you choose to adorn yourself this season, just be sure to shine brightly. You may also want to try being loud by ringing your bell or blowing a
whistle
Portlandia style
to alert drivers to stops and turns.